I DID

NOT

BOW TO THAT JAPANESE EMPEROR!!
EVERYONE

BOWS TO EMPEROR AKIHITO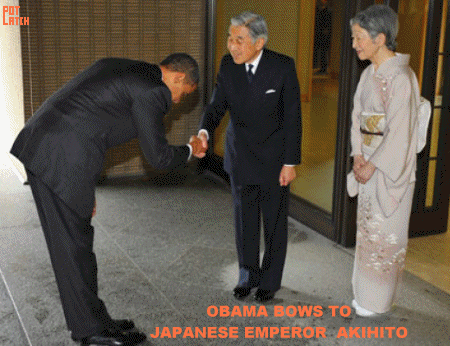 I AM THE ONE, THE MESSIAH, WORSHIPPED IN THAT

TERRRRIBLE

LAND OF AMERICA FOR WHICH I APOLOGIZE PROFUSELY. THE CAMERA LIES, THE VIDEO LIES I AM WITHOUT SIN, THEY SHOULD BOW TO ME THE USURPER, THE MARXIST ISLAMIST WHO NEVER LIES, JUST

"TECHNICALLY DISINFORMS"

PEOPLE TO GET MY WAY.

AND I PROVIDE FULL LEGAL PROTECTIONS THAT AMERICA HAS FOR ITS CITIZENS TO TERRORISTS WHO KILLED SOME 3,000 AMERICANS.
By the law of our

USA land

they will have to have the

case dismissed

as none of the existing evidence can be used at our trials so the

"

alleged

" (though confessed) terrorists will be

found not guilty

and can go home and I can close Gitmo! See how clever I can be?
AND WILL TRY TO DIVULGE OUR CIA SECRETS THROUGH THE COURT TRIALS.
AND WILL DO EVERYTHING I SWORE TO ALLAH TO DO WHEN I WAS GOING TO ISLAMIC MADRASSEH IN INDONESIA, AS A GOOD MOSLEM.
I AM AN AMERICAN SECOND. JUST LIKE MAJOR HASAN. AND AM INFERIOR TO OTHER HEADS OF STATE (except Queen Elizabeth, whose England refused entry to my brother!)
http://www.nypost.com/

video

/?vxSiteId=0db7b365-a288-4708-857b-8bdb545cbd0f&vxChannel=PostUsFeed&vxClipId=Jpeb857094&vxBitrate=300