If Al Gore got an abdominal massage maybe you should turn over and give it a try. Just don't........!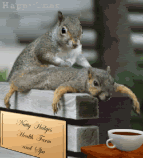 TO ARROGANT, NARCISSISTIC THIS!!!!
A top aide to former Gov. Rod Blagojevich said he believed Barack Obama knew of Blagojevich's plot to win himself a presidential Cabinet post in exchange for appointing Valerie Jarrett to the U.S. Senate. John Harris, Blagojevich's former chief of staff, testified Wednesday in the former governor's corruption trial that three days after the Nov. 4, 2008, presidential election, the ex-governor told Harris he felt confident Obama knew he wanted to swap perks. "The president understands that the governor would be willing to make the appointment of Valerie Jarrett as long as he gets what he's asked for. . ....
DEFENCE HAS WON A REQUEST TO SUBPOENA
RAHM EMANUEL AND VALERIE JARRETT
ISSUING ONE FOR OBAMBI PENDING
as more and more facts emerge that he was fully engaged in all these corrupt matters
The architects of America's financial misery
SENATORS FRANK (left) and DODD (right)
Frank shows Dodd his balls indicating he has continued to lead America down the wrong financial path, ignoring our wishes, to ensure ruin for our country. To please Obama AND GRAB CONTROL over "we the people" by pushing us into economical slavery.
PEEEUW......! THEY STINK.